Hello Friends How Are You I Hope You Are Fine, Today in This Article I Will Tell You How To Install GTA San Andreas PC Mods 2021 If You Use GTA 5 and Want to Install Mods in GTA 5 Then You Can See This Article "How to install GTA 5 Vehicle Mods"
To Install Mods in GTA San Andreas PC You Will Need a Software, Its Name Is GGMM Now You Are Wondering What Is This Full Name of GGMM Is GTA Garage Mod Manager with the Help of This Software You Can Do Any Can Install Vehicle Mod in GTA San Andreas PC
How Can You Download This Software, to Download the Software, You Can Simply Search on Google GGMM or You Can Also Download from the Link Given Below. GTA Garage Mod Manager
Let's Talk About How You Can Use the GGMM Software and How to Install the Mods, Although You Do Not Need Advanced Knowledge, You Can Use This Software Very Easily, I Will Guide You Step by Step.
Note
Before Installing the Mod in the Game, You Must Make a Backup of the Game Because If Any File Is Deleted Then You Will Be Able to Enjoy the Game Without Any Trouble.
Step 01 : You Have to Open GGMM Software The Screenshots Below Will Show the Look of the Software.
Step 02 : You Can Download the Mods You Want to Install or You Can Also Download the Mods from Our Website You Get 2 Files in Mods 1 Mod Name.dff and . Name.txd File. Dff File Is the Main File of the Mod and .Txd Contains All the Textures of the Mod
Step 03 : in GGMM Software, You Will Get the Option of Installer in the Top Right Side, You Have to Click on It.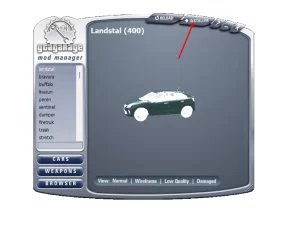 After Clicking on the Installer, You Have to Click on Manual Mod Installer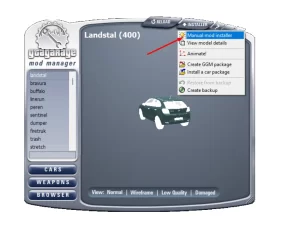 Step 04 : Install Modes to Install the Modes for You .Dff and  .Txd Files Have to Be Installed, You Can See in the Screenshot Below,You Simply Drop the File
After Dropping the File, Click on Simple Install, as Soon as You Click on Install, You Will See the Message of Done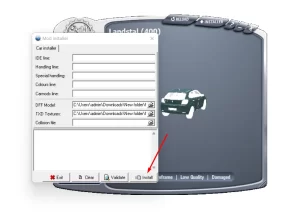 I Hope You Have Followed All the Steps Now Your Mod Is Installed Now You Close This Software and Now We Will Test This Mod in the Game
Step 05 : Install Mod Menu with the Help of This You Can Spawn a Vehicle to Download Mod Menu You Can Also Simple Search on Google or You Will Get the Download Link Below to Install This, You Will Get the Video of the Install, You Can Install It by Watching the Video Below.
Step 06 :
Spawn Mod First of All You Have to Open the Mod Menu, to Open the Twist Menu, You Press F 2, the Mode Menu Is Different and Everyone Has a Different Menu Key, So Whatever Menu You Use, Open the Menu
After Opening the Mod Menu, You Should Go to Simple Vehicle Spawn and Find the Name with Which You Have Installed Mod, I Installed It in the Name of Mule.dff, So I Have to Find Mule Vehicle
If You Want to Learn How to Create Mods for GTA San Andress or GTA 5 Then You Can Buy Our Course in These Courses You Have Been Given Full Details So Buy the Course Soon You Can Mail Us for More Details [email protected]